Name: Iceberg Automaton Brute
Rank: B-C (depends on how it is displayed in battle)
Picture/Description: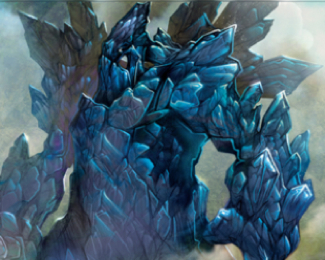 about 7 ft. and a half tall, it's texture is almost like a rock rather than an ice. If it is in an open feild it can grow up to 50 ft. (depends on how big the place is or enough material to withstand it)
----------------------------------
Abilities: The Automaton Brute can withstand any blows from an attacker. (75% deffence)
It is capable aslo to repair itself with the ice. If there is ice it can repair itslef. Though a bit larger, it can handle heavy blows from an artillery at point blank. It walks slowly out of the ice, but walks freely in the ice like dashing, crawling on top of the icy walls. The Automaton Brute enables it's arms to be as a weapon of choice it can be; a mace, hammer, sword, shield, a gun and even a magical scepter of their own making. They can also use spells such as minor ice spells only. If a player faces an Automaton Brute with a shiled that is equiped on to it, he/she has lots of difficulties on killing it because it adds bonus into it's deffences. (15% only) The most deadliest of the Automaton Brute is a user of magic and a shield. It's life source is Samael himself, and by a secret language he commands them at his will.
History: The Ice Brutes were enchanced by Samael himslef, at a teenage years of his life he has grown stronger than ever. So he re-invented and re-engineered his Ice Brutes to become an Iceberg Automaton Brute. They were used during the Nazthalonian Battle in the dimension named Ta'alador.